Siren is Freeform's mermaid mystery-thriller TV series, based on Eric Wald and Dean White's mermaid story, The Deep.
In Siren, Bristol Cove is a coastal town known for its legend of once being home to mermaids. When the arrival of a mysterious girl proves this folklore all too true, the battle between man and sea takes a very vicious turn as these predatory beings return to reclaim their right to the ocean.
Season 3 of Siren airs Thursdays at 10pm/9c on Freeform.

CHARACTERS
FEATURED VIDEOS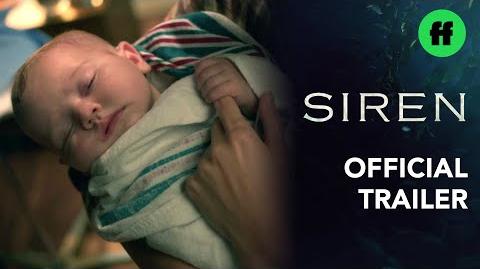 FEATURED ARTICLE
Merfolk
(or
Merpeople
) are a marine race of half-human, half-fish predators who have existed for hundreds of years in secret under the depths of the oceans of
Bristol Cove
, Washington.
Ian Sutton describes them as "highly evolved apex predators" (although it turns out to be a premonition that Ben foresees when he learns of the consequences of saving Ian).
READ MORE...
ABOUT
The Siren Wiki is a collaborative community documenting Freeform's mermaid mystery-thriller Siren. Feel free to add knowledge and facts in this growing database under the supervision of Policies and Guidelines. If you're a new editor, please read the Help pages on how to get started.
Join the cause, take your place as an editor and help us expand our knowledge.

TWITTER