"
I am Ryn. I come from the sea.
"
— Her very first words[src]
Ryn Fisher is the main protagonist of Siren. She is portrayed by Eline Powell. Ryn is a mermaid who finds herself in Bristol Cove, a coastal town known for its history with mermaids. When she arrives in town, she assumes the name "Ryn" from a cartoon she briefly watches through a child's bedroom window. She is there searching for her sister, Donna, who was separated from her by fishermen who accidentally captured her. Ryn is the mother of Hope, the maternal aunt of Cami and the girlfriend of Ben Pownall.
Official Description
Ryn is a strange young woman with a deep dark secret.
Early Life
Not much is known about Ryn's past. The only thing known is that Ryn and Donna are sisters that come from a mermaid colony. At some point prior to the start of the series, Ryn and Donna's mother died. From there, Donna made it her responsibility to take care of Ryn and herself.
Physical Appearance
Human
Ryn, in her human form, has a slim figure, fair skin, long dark brown hair, and steel blue eyes. Her most defining feature is her sharp cheekbones. It has been said several times by other humans (examples: Ben/Maddie/etc.) that Ryn has a physical appearance that draws others to her. This is probably because of her natural, beautiful mermaid nature.
Mermaid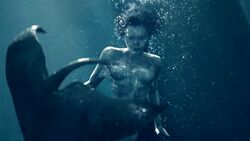 Ryn, in her
mermaid
form, has the upper-body of a human and the lower-half of a spiky, long fishtail. Along with that, she has small sharpened teeth, large glassy eyes and slits in between her ribs, three on either side of her body. These slits house her gills, which allow her to breathe underwater. She has webbing between her fingers, which are tipped with razor-sharp claws in place of normal fingernails. Her pectoral fins, which help her move left and right, are half the length of her tail. Her dorsal fin is even longer, stretching from the base of her neck to near the tip of her tail. Like all mermaids, Ryn's spinal vertebrae extend all the way to the tip of her tail, which, combined with the many muscles that make it a powerful limb, makes her tail much more flexible than her legs when she's in human form. Her entire body is covered in scales that appear silvery-blue when she's in the water.
Personality
As a mermaid, Ryn is a feral and menacing predator as seen when a shark head shows up onshore and when she attacks her rescuer, Ben, after her return to the water.
As a human, she is a very curious and highly intelligent creature. Even without a grasp of the English language, Ryn exudes a balance of innocence and naivety with dangerous animistic instincts. Ryn is a dangerous predator, who will attack at the slightest provocation, as when a woman yells at her as she is stealing clothing, or at a man who misunderstood her silence for agreement to sexual activity.
Although Ryn does not seem to be particularly intelligent in most situations, she has a remarkable memory, and capacity to learn and mimic language.
Nicole describes her as "highly evolved, even rational".
Throughout the Series
Relationships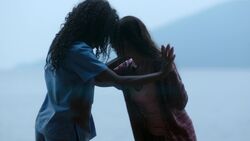 Donna is Ryn's mermaid sister and the leader over her in their mermaid colony. They share a close relationship, especially after the death of their mother years ago, and often hunt for food together. However, during one of their food hunts, they are caught in Xander's father's ship net and beached on their ship. Ryn and Donna try to escape while injuring Chris Mueller in the process. In the end, Donna is captured by the U.S. military and Ryn escapes. Ryn later beaches herself and turns into a human in an attempt to find Donna. Ryn finds several human allies along the way until Donna and Ryn share a heartfelt reunion and return to the ocean together.
A month after their reunion, Donna and Ryn are forced to find help on land due to humans overfishing in their waters. Donna goes against Ryn's friends and allies after she believes all humans are bad, which strains their relationship. Ryn stays on land to rectify the fishing situation while Donna returns to their colony in the water. After Donna realized her colony wants to kill Ryn for staying on land for too long, Donna temporarily abandons her colony and allies with Ryn and her friends to stop their colony. This restores their close relationship. However, Ryn risks losing Donna after Xander unintentionally shoots Donna in the stomach. Ryn anxiously waits for Donna's recovery, but unfortunately, Donna's chances are slim according to Ben, Maddie, and Helen.
Donna eventually succumbs to her wounds and dies in Ryn's arms, which leaves Ryn to experience more heartbreak as a newbie human. Later on, Ryn decides to let Helen help her find a burial place for her sister.
Mermaid Colony
Ryn leads a mermaid colony that holds fellow merfolk Donna, Levi, and Katrina in it. Katrina was originally Ryn's matriarchal leader. However, Levi and Katrina felt that she was on land too long and attempted to kill her. However, Ryn asserts her dominance over Katrina and gains leadership over Katrina's mermaid colony.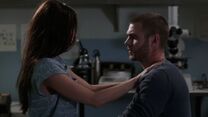 Ryn first meets Ben after seeing him driving down a deserted road and he spots her running around his town barely clothed. Being she was a non-English speaking mermaid, she doesn't understand Ben's intentions as he clothes her and drives with her back to his house. Ben is puzzled at Ryn and tries to figure her out as she continues to blankly stare at him. Ryn then decided to use her Siren song on him, hypnotizing him being she was curious about him until she could escape his house on foot. Ryn eventually is found by Ben again. Later in his marine rescue center, Ryn struggles to the water and transforms into her siren-self. Ben sees this on camera and dives in after her thinking she is drowning. However, this is where Ben first discovers Ryn is, in fact, a mermaid/siren. Acting on instinct, Ryn attacks Ben underwater despite knowing he isn't a real threat.
Their friendship continues to develop during the first season until it grows into something a little more than platonic, especially when Ben becomes obsessed with Ryn's siren song. Ryn was unaware of his growing-obsession for her. Despite this obsession, Ryn and Ben grow to be close friends, who even share a kiss at one point (Ryn is unaware of romantic interaction at this point, however). Even though Ryn is a bit naive of what the difference between friendship and romantic love is in human culture, she refers to Ben as being "love". After the events of the first season, Ryn sees how obsessed Ben has become with her, especially with her siren song (similar to how Aldon became obsessed with Donna's siren song) knowing what became of Aldon, Ryn decides that it is best if she stayed away from Ben for a while for his safety. In the latest episode "Primal Instincts" Ryn, Maddie and Ben wake up after falling asleep cuddling after having shared kisses and falling asleep. Ryn asks Maddie and Ben why they stopped, which Maddie replies they weren't sure if Ryn wanted to do anything more. Ryn replies that "She wants to make love to Ben and Maddie" Ben and Maddie share a look before replying they would like that too.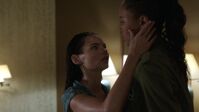 Ryn meets Maddie through Ben and the two share a tense relationship at first and Ryn even attacks her at some point, but Maddie continues to open up about herself to Ryn, which helps them to grow closer in friendship. Eventually, Ryn decides to fully trust Maddie with Ben as they help Ryn find her sister. They share several moments together, which helps them to grow closer during the first season, such as: when Maddie opened up to a curious Ryn about her choice to decorate her hair, when Maddie helped Ryn dry off after falling into the pool at the Siren Song Motel and Ryn hugged Maddie after learning she was afraid of her, and when Ryn asked about Maddie's mother and Maddie taught her what love was (which lead Ryn to kiss her) Ryn also refers to Maddie as being "love" (along with Ben) at some point during the series, opening up the possibility of a romantic relationship between the two. In the Season 2 episode "Primal Instincts" the show has officially established Ben, Maddie, and Ryn as a polyamorous couple.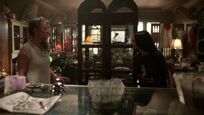 Ryn became friends with Helen after she remained on land to find her sister, Donna. Helen sheltered Ryn while she tried to find her sister. Helen made it strictly clear to Ryn that she belonged in the water, despite this, the two grew closer as friends and allies. Ryn also reveals she sensed Helen was a fellow mermaid after they both buried Donna's body.
She offers her colony hospitality for a short time before relocating to Ben's family cabin. After receiving a check for $104,350.00, she helps Ryn's colony find an apartment to improve the living situation.
Ryn becomes enemies with Aldon after she learns through Donna that Aldon was the one to experiment on and torture Donna. Ryn and Donna decide to lure Aldon into the woods and try to kill him for the torture he inflicted upon Donna, but Ben arrived in time to stop them from killing Aldon. Ryn later lets Aldon try to help Donna's wounds, but Ryn tells Aldon to leave when he begs Donna to sing her siren song to him.
Ryn meets Maddie's father after his team arrests her. Dale interrogates Ryn about a supposed-drug epidemic, but their relationship transitions when Maddie helps Ryn reveal her mermaid form by pouring saltwater on her right arm revealing her scales, webbed fingers, and claws to Dale. Ryn and Dale become allies and their hostile relationship is no more after she has snapped Glen's neck for attempting to assault Maddie at the Siren Song Motel. While driving back from the Siren Song Motel with Ryn, he explains the importance of laws on land to her, and that the myths that Bristol Cove believes about mermaids represents a peaceful existence that would bring change to the rest of the world.
Powers and abilities
In her human form Ryn is highly stronger, faster and resistant than normal human beings.
In her mermaid form she's even stronger, faster and resistant than her human form.
She does not transform into her mermaid form in fresh water.
She can naturally breathe underwater.
She can reach every depth in the water.
Is able to pass a primate intelligence test as demonstrated in "Interview With A Mermaid".
She heals a lot faster than humans, this healing process is accelerated in her mermaid form.
She can confuse people's minds and lead them in a state of madness with her voice, singing a particular song composed with lots of frequencies (as seen with Aldon Decker and Chris Mueller, by her sister Donna, Ben Pownall and Maddie Bishop, by Ryn herself).
She can take away the pain from living beings with her voice, singing a different song, as shown in "No North Star" and in "Life and Death" to calm down her unborn daughter, who was growing inside of Meredith.
She is able to sense her daughter Hope's presence.
Talents/Experiences
Throughout the series, Ryn shows examples of how much about human culture she learns while residing on land:
While Ryn is helping out at Helen's antique shop in "The Arrival", she learns the basics of customer service, the concept of money and its slang words "dough" and "moolah.
In "The Wolf at the Door" Ben teaches her how to drive, and learns what it means to laugh.
In "The Last Mermaid", Ben and Maddie give her a cellphone and learns how to use it.
In "Borders", her talent for cooking is introduced when she serves Ben and Maddie carrot and banana salad with marshmallow chicken.
In "Survivor", Ryn expands her knowledge by reading books. She also attempts to use the vocal assistant on Maddie's phone.
In "Mommy and Me", she and Maddie attend a session for mothers and their babies where she learns about singing a lullaby and the meaning of "attachment parenting".
In "Northern Exposure", Ryn flies on the plane to Alaska experiencing air travel for the first time, on their way to the mermaid tribe's territory she sees a brown bear in the middle of the road seeing nature on land.
Trivia
Her name is also a town in Poland.
Her weight is 196.6 lb (almost 200)
Her body temperature is 92.2 (6.4 degrees lower than the average human body temperature)
Her unnamed mother died long before she had time to remember her. We do not know what happened to her father, since the females do not give much importance to the males whom they mate with.
Her lack of resemblance to Donna suggests that although sharing the same mother, they would be from two different fathers, which would make them maternal half-sisters.
Maddie says to her long-lost addict mother in "Primal Instincts" that Ryn is from Finland when she asked about Ryn's accent.
It is in particular to her that the scientists of the United States military seem to be interested, because of the reports of Nicole according to which she is very evolved and even more rational than the others; referring to her as "the one they need". This is confirmed by the fact that Ryn is the Siren of her colony that spent the most time on the surface.
It is revealed that in "No North Star", she has the ability to sing a particular soothing song that takes away pain but not fully heal. This song was probably taught to her by Eliza, who was in a way the healer of their colony.
Appearances
| | | | |
| --- | --- | --- | --- |
| | Season 1 | Season 2 | Season 3 |
Gallery
Promotional Images
References